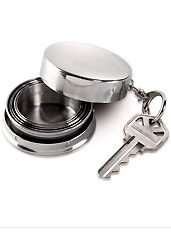 Something in your pocket has been getting a lot of attention lately.
We're talking about that powerhouse of a phone. It downloads books. It plays music. It gives directions. On a good day, it makes calls. So it's time that other things in your pants start pulling their weight.
We're looking at you, key chain.
Acquaint yourself with the
Collapsible Shot Glass
, now ready to make sure you're never without a drinking vessel again.
This ingenious advancement in barware is made of rugged stainless steel. It folds flat (and even has a durable leather carrying case), but when you need a quick 1.7-ounce belt of something strong, it pops open with a twist of the wrist.
The implications are staggering. Imagine this familiar scenario: it's you, Hillary Clinton and some medium-to-high-grade Russian diplomats tossing around a few arms control scenarios in the back of a St. Petersburg KFC.
No one expects much. But after your brilliant gambit on medium-range missiles and Clinton's Albright anecdotes, suddenly things are moving in a positive direction. The ice is thawing. All that's left is the vodka toast to seal the deal. But Russians don't drink out of paper cups. Suddenly, you throw your keys on the table, and—
Na Zdorovie!
—deal's done.
Where Hillary kept the vodka is classified.