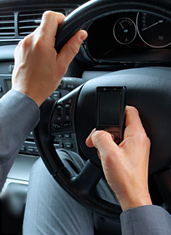 It's official: the statewide texting-while-driving ban is now in full effect, starting today.
Which means if you're going to avoid a steady stream of annoying tickets (or your third fender bender), it's time to start exhibiting some self-control. Or just get an app to do it for you...
Presenting
iZUP
, the Newton-based app for your BlackBerry and Android that delays all web surfing, texting and emailing while you drive, now available.
Here's how it works: you'll download this app and hop in your car. As you drive, iZUP will use your phone's internal GPS to determine how fast you're moving. If you're moving faster than 5 mph, it puts the kibosh on your ability to send emails, text or surf the web. Meanwhile, all incoming messages are delayed and accessible only after you stop driving (which means it's also your new excuse for avoiding your boss).
And if you're worried that this might cut into your texting-while-power-walking ritual, you'll be happy to know that you can adjust the speed at which iZUP will begin disabling calls, emails and texts. The only number you
will
be able to dial at all times is 911, in case of an emergency.
Note: calling ahead for Chinese takeout—not an emergency.