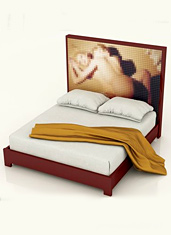 You've had a lot of great things in bed.  
Life-changing epiphanies. Caviar blinis. Oscar winners.  
And now it's time to add one more to the list. A photograph of you. On your headboard. In the buff...  
Introducing
The
InDecent Bed
, a glorious bed that comes with an immaculately artistic rendering of you, available now.  
Now, there are two things you should know up front. One: you should probably be photographed between 87 to 100% naked on this thing. Two: the price of this magnificent bed frame and headboard is a cool 60 grand. But hear us out...  
Here's how it works: you'll order your bed. Then, you'll be flown out to LA for a private photo shoot with your choice of three photographers, at least one of whom has shot Pam Anderson naked. (Which means he can probably handle shooting your... assets.) Then, this intimate experience will be strictly between you, the world-renowned photog and his crew of about 14.  
Once captured on film, your picture will be airbrushed (not that you need it), and then hand-stitched into a pixelated mosaic on your new headboard. From up close, it'll appear as an unrecognizable abstract of colors. From a distance, well... you'll be able to make out everything.  
We hear Sting has one at home.