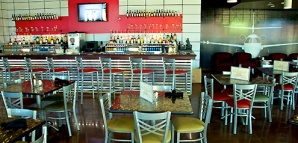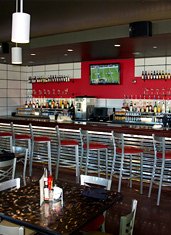 You've always loved a restaurant with a good view.
A steakhouse that overlooks Downtown. A BBQ joint that overlooks Oak Cliff. A sushi place that overlooks the Cowboys Cheerleaders practicing.
And now: a cozy restaurant with a patio view of jets.
Introducing
Delta Charlie's Bar & Grill
, the new (and only) restaurant at the Dallas Executive Airport, now open for your next plane-adjacent rendezvous.
First of all, you should know: it isn't hard to get to this place. It's eight miles south of Downtown, and parking is free and laughably close to the airport.
So the next time you just need to escape from the hustle of the city, you'll head out here, enter through the main terminal and quickly find yourself in a space that screams "casual restaurant celebrating flight": there are floor-to-ceiling windows looking onto the runway, a huge picture of a plane taking up one entire wall and a massive red fan that looks like a propeller.
Order a cold beer and get comfortable. Then, when you're ready for the best plane-watching views in the city (ideally, this'll be at sunset), head out onto the patio, where you can sink into some
Rack o' Back
ribs as you watch everything from single-prop planes to G5 jets take off and land about 20 yards away from you.
Now would be a good time to put on your aviators.