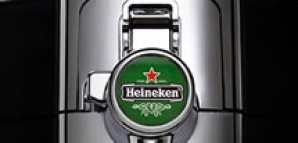 The idea of draft beer on tap at home has long been an appealing one, but also a logistical nightmare.

Not any more: Heineken has just teamed up with kitchen appliance gurus Krups to make the dream a reality. Introducing the Heineken/Krups BeerTender, hitting stores tomorrow.

You've probably seen those miniature Heineken kegs taking up valuable real estate in the supermarket beer aisle and wondered what on Earth you'd ever do with one except go on a three-day bender. It's hardly the kind of thing you just pop open on a Friday night and hope for the best.

Designed especially for those Heineken bad boys—officially called DraughtKegs, they hold 5 liters or approximately 14 bottles worth—the BeerTender features integrated refrigeration (i.e., it keeps the brew cold for up to 30 days) and an LCD readout letting you known when it's time for a refill. (Short answer: usually).

Besides the bonus benefit of freeing up valuable real estate in your fridge (you can finally make room for that giant wheel of Gouda), the BeerTender also allows you to select your perfect imbibing temperature. There are three settings that basically equate to arctic, normal and...British.

Bowl of peanuts not included.