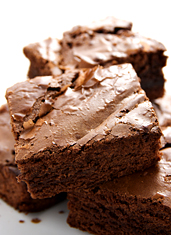 You've never been one to rely on artificial stimulants to enhance your performance.
Well, other than that year you hit 73 home runs.
But now might be the time to reconsider. Because now is when the glorious era of caffeinated brownies begins.
Introducing
A Snack in the Face
, a tiny bakery in Iowa that specializes in caffeinated baked goods, available online now.
Here's the deal: these are cookies and brownies made just the way your grandma used to do it, only injected with 200 milligrams of pharmaceutical-grade caffeine. (If you ask nicely, maybe they'll slip you 225.)
So the next time you think you might need a pick-me-up—red-eye to Vegas, dinner with the chairman, new Woody Allen movie—you'll go online and order a batch of chocolate chip cookies, brownies or brownie-truffles. At that exact moment, a team of over-stimulated bakers in Ames, Iowa (where else?), will begin cooking them up—though they're currently perfecting the formula for muffins, cheesecake and truffle shots.
Caffeinated cheesecake: the time has come.