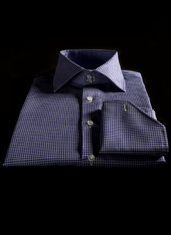 Trust. It's the foundation of all sacred relationships.
So you go to your favorite bartender for the perfect Old Fashioned. Your accountant to discuss your secret Swiss bank accounts. And as for what you wear to work every day... well, of course, you head to the doctor.
Say hello to
Roderick Tung Shirts
, the world's first shirting line from a tailor who is also a cardiologist, available for your office-ing needs now.
Yes, that old story: a doctor who makes shirts. To be clear, this guy isn't a dilettante—in the doctor department (he went to Harvard) or the shirtmaking one (the shirts are made with the same Italian fabrics Gucci uses, and Dr. Roderick grew up in that fashion capital known as Naperville).
So say it's Wednesday, and you're discussing mergers with a rival from another firm. That's when you'll want to don the red pinstripe number with the Gordon Gekko-style white collar. (Leave the oversize cell phone at home.) Then, when you want to discuss a different kind of merger—the kind sealed over drinks at MK—that's when you'll go for the more casual blue-and-white-striped number.
Note: this doesn't mean you should trust your tailor with your cardiology.