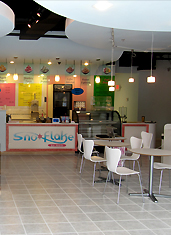 So, mid-90s lately.
Interesting.
And it's got us thinking... maybe summer is trying to tell us something.
Like it's not going down without a fight.
And to prove it, say hello to
Sno-Flake Ice House
, a sleek little house of futuristic ice cream to help you usher summer out in style, opening Monday in Inman Park.
Now, about that futuristic thing. Basically what you're dealing with here are razor-thin shavings of ice that, through the miracles of modern technology, end up melting in your mouth like the cold version of cotton candy (we suspect math might also be involved). But we'll leave the science to them... you're not here to trifle with such matters. 
So after a long dinner at Sotto Sotto, you'll stroll down North Highland and find yourself in front of a glass door. A cool blast of air hits your face as you make your way to the counter and casually request a
Green Tea Delight
(dewdrop, green tea leaf) or a
Fruit Disaster
with kiwi, strawberry and mango.
At that point, you could either head back into the night or stake your claim in one of the lounge-y white chairs in the corner.
Fall can wait.