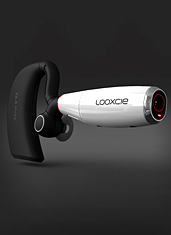 It happens all the time.
You see something crazy—say, Willem Dafoe wrestling a wolf—and you just have to tell someone about it.  
And while your descriptive powers are second to no one's, sometimes you need a little more.
Like documentary footage. Shot from the side of your head.
Introducing
Looxcie
, the world's first Bluetooth headset that's also a camcorder, available now for your lifecasting needs.
You'll start by downloading the Looxcie app on your phone. (Android now, iPhone and BlackBerry later this fall.) This will effectively turn your cell phone into a viewfinder, editing suite and playback monitor—we're 99% sure Scorsese has this setup at home.
So as you walk down the street, the video will be sent directly to your phone. It's here that you'll make the tough cut (you didn't quite nail the landing in that car chase) before uploading your finished masterpiece to an email, Facebook or YouTube. Now you just need a title...
We like
The Bluetooth Lagoon.