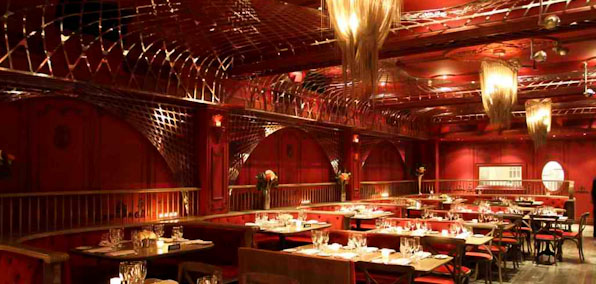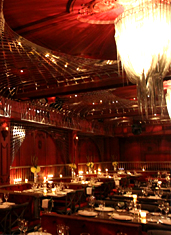 It's the little things.
Yachts with smaller yachts inside them, suntan lotion butlers, jazz-themed parties at yet-to-open '20s-style dinner lounges.
And while you may be contemplating the hiring of your own suntan lotion butler, we'd like to focus your attention on that dinner lounge and that party.
Introducing
The Darby
, a secret noir hideout that's the kind of dark, vintage room perfect for champagne-drenched dinner parties, open for private events now and soon for dinner and dancing.
This place lives somewhere in the wild intersection of restaurant and theater. It's the kind of cabaret where Marilyn Monroe and Truman Capote would dance on tables together—a big red-velvet and dark-wood room filled with spectacles like a magician conjuring balls of flame as a house jazz and funk band does its thing.
The night starts outside on 14th Street under a blaze of white-hot light spilling from an awning covered in Edison bulbs, but once inside you get wrapped in a world lit only by the dimmest silver chandeliers and the flicker of golden floor lamps shaped like machine guns.
You'll peruse a menu of oyster-stuffed filets and steak tartare covered in warm bone marrow, and at some point you may realize you've danced this dance once before. It used to be called Nell's, the legendary nightclub (favored by Patrick Bateman) where Warren Beatty and Bono discussed third-world poverty... and hair products, and Tupac Shakur made it rain like it was his private Champagne Room.
Biggie always preferred the Steak Room.