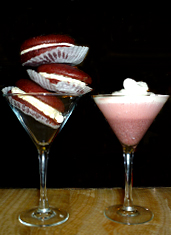 There are those days when you just need a stiff one.
And then there are those days when you'd like it with a little caramel as well. And maybe a whoopie pie.
Consider this the second kind of day.
All hail the arrival of
The Whoopie Pie Martini
, available this Friday at Four Lounge.
Think of it as the perfect combination of dessert and post-dinner cocktail: a rich and smooth mash-up of red velvet whoopie pie, cream and booze.
But getting it on your table is no small feat. First, Four Lounge's fearless mixologist, Keith, brings in red velvet whoopie pies from Society Bakery, which you of course know to be the undisputed champion of whoopie pies. Next, your pie is cut in half, and one piece is tossed into a shaker with ice, homemade caramel cream and vodka. (Unfortunately, you cannot have the other half.) The shaker is shaken, and finally a smoothie-type substance is poured into a martini glass, where it gets topped with more caramel cream and pierced by a black straw.
The result is something completely foreign, but needless to say, when it hits your lips the richness of the red velvet, the creaminess of the caramel and the booziness of the vodka will all be felt.
And it will feel good.