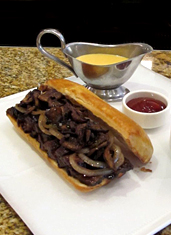 You know this better than anyone: truly important things take a long time. Economic stimulus. Building a winning baseball team. Tunneling out of prison behind a poster of Rita Hayworth.
And now, your cheesesteak.
Presenting
The Central Cheesesteak
, a sandwich three days in the making, now available at Central Michel Richard to transform your after-work snack.
Not since Ben Franklin left the ladies of Paris swooning in his wake has there been a Philly-France connection quite like this. Step one: Michel Richard, our own mad scientist Frenchman, slow-cooks short ribs for 72 hours (73 would be just excessive).
Step two: you wander into the Central bar, in need of some late-afternoon sustenance. You're thinking pretzels, maybe a couple of sliders. But Michel and his Philly-bred executive chef (forgive him, at least until the Eagles come to town) have other ideas. They slice up the short ribs, sear them and lay them out on a buttery roll with onions, mushrooms and beef glaze (because your steak needs more steak).
Step three: now it's up to you. Along with a few massive cottage fries and chipotle ketchup, you'll get a huge boat of cheese in its optimum state—liquid. You'll have the option of dipping each bite in the gooey yellow stuff or slathering it all over the meat.
Your slathering skills are legend.