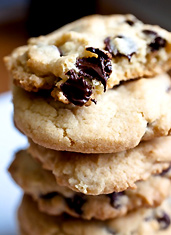 It's practically a national holiday.
That momentous occasion, coming in just a few short days, when millions will put their lives on hold to observe every second, every gripping moment of this most holy event.
Yes, Monday is International Chocolate Day.
Pause, reflect and order some
Custom Chocolate Chip Cookies by SweetChip
, a homemade-to-order cookie service tailored to your precise specifications, available now.
Your hookup: a kindly woman named Kristin (and, we assume, a team of dough-loving elves), who has spent her life perfecting the delicate creature known as the chocolate chip cookie. It's sort of like having a grandma on demand, only you don't need to call every month to say hi and ask how the weather is down in Florida.
Here's how it works: the next time you need to impress a date, offer a token of apology or just satisfy a craving for a bunch of cookies, you'll go to the site. Once there, every step of the process will be under your control (except for the actual baking). You'll pick from a list of cookie styles (chewy versus crispy), chips and nuts, before deciding which of four add-ins to include. (Always go with peanut butter.) You can also go off-script and request something special, should you have a hankering for a little absinthe with your cookies. (Hey, you never know.)
Once ordered, your cookies will be made from scratch within 24 hours, and ready to go.
If anyone asks, you made them yourself.