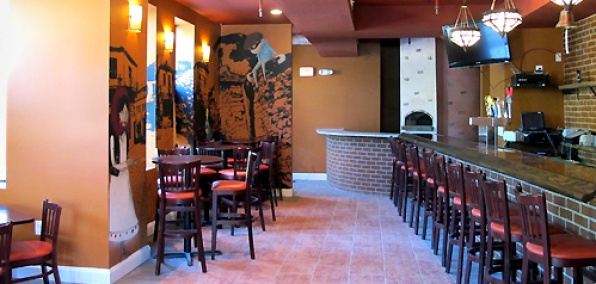 Some pizza joints try to get your attention with gimmicks: Cheese airlifted from Italy. Ovens that blaze hotter than the sun. Stuffed crusts.

Which is all fine and good. But sometimes all you want is good pizza, a solid lineup of drafts... and a giant bell.

Say hello to Rustik Tavern, soft-opening this month as yet another stop on your never-ending quest for pizza nirvana.

This is the kind of place where you can while away an afternoon in front of college football with a bunch of like-minded folks. You'll find plenty of tables along the windows (or under the only-slightly-creepy wall-size mural), but you'll want to make for the brick-lined bar.

There, you'll get a front-row seat—not just of the flat-screen, but of the fearsome wood-and-gas burning oven, which turns out Neapolitan-style pies with housemade mozzarella and ricotta. But save some room for the open-faced sandwiches piled with charcuterie and toasted in the pizza oven.

Like the chef, the manager is a veteran of Vinoteca Wine Bar, so you can expect a quirky list of hard-to-find bottles from around the world, as well as 10 draft beers like Delirium, Arrogant Bastard and Victory—not to mention a deafeningly loud, custom-made fire bell hanging over the bar. Expect to hear it at last call.

And all next morning.