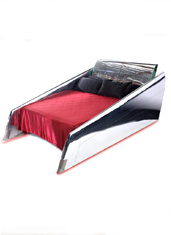 Lately, you've been feeling that your bedroom is missing something.
Like an airplane.
Perhaps attached to a California King mattress.
Introducing the
Mile High Bed
, an intriguingly named bed frame fabricated out of actual airplane parts, available for custom orders now.
You'll start by picking up a pilot's uniform. Okay, that's not necessary, but if you're going to turn your bed into an airplane, there's no need to keep things subtle. If any guests—or as you'll now call them, passengers—are making their maiden voyage, you'll want to give them a quick in-flight demonstration on how to sleep first class. You'll explain to them that on the left and right are the repurposed wings of a DC-9 jet, and the headboard at the rear of the craft is made from a decommissioned C-130 military gunship. Which pretty much gives you license to use whatever "ready for takeoff" jokes you want.
Should you experience sudden turbulence or a loss of cabin pressure during your overnight flight, it is advisable to use the bed's built-in sound system and LED lights to keep everyone calm and signal the stewardess for assistance.
Quite naturally, you'll want to show off your new sleeping nook/flying machine, so there is an option to install a working golf cart motor, steering wheel and wheels directly into the frame of your bed so you can drive it around your bedroom.
Short-tempered steward and inflatable escape hatch sold separate.