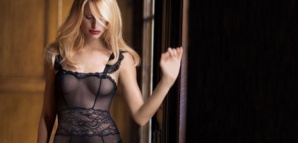 When it comes to Valentine's Day, we could all use a little inspiration. This year we sought it in the form of veteran supermodel and Victoria's Secret Angel Karolina Kurkova. The curvaceous blond from the Czech Republic with the killer smile chatted with us about the life of a "homebody" supermodelin New York, her idea of a sexy Valentine's Day—and what's more important than a guy's boxers or briefs.
UD: Do you consider yourself a New Yorker?

KK:
Absolutely.
UD: Which neighborhoods are we most likely to find you hanging out in?
KK:
I like downtown—the Lower East Side, East Village, Tribeca.
UD: What are your favorite restaurants in NY?
KK: I love Caravan of Dreams, Pure Food and Wine, Salt on Thompson Street, and Pageant.
UD: Are you a party girl or a homebody?
KK:
A homebody. I like to go see movies, I like to walk around, I like to stay home and cook. I like to have a really nice dinner with friends. But I'm not, like, a party girl.
UD: Do you ever go bowling with Izabel?
KK:
I like bowling but I've never been with
Izabel
. We're in all different places, so it's hard to be in one place to go bowling together. If I'm in LA, she's in NY...It's hard to keep up with all of the Angels.
UD: Tell us about your role in the new GI Joe movie.
KK:
It's a big secret. I can't talk about it much right now, but I'm really looking forward toit. We're shooting in Paris, Prague and LA. I'm on the good team—I'm serious, I'm tough.
UD: Is your character going to kick some ass?
KK:
More kick my ass in my brain.
UD: Okay...so what's your ideal Valentine's Day?
KK:
Good meal, good sweets, beautiful gifts. You have to look good, so I would put on beautiful lingerie. I would do my hair and makeup, and put a beautiful shimmer on my body, just so I feel really good. And then the guy will like it, and then maybe he will cook for me...When a guy can cook, I love that. And maybe use some massage oil. That would be a perfect Valentine's Day.
UD: Who's more romantic—Czech guys or American guys?
KK:
To be quite honest, I never dated an American guy. They're all from Europe or Latin America.
UD: So you don't go for American guys?
KK:
I just never had the opportunity.
UD: But you're open to the opportunity?
KK:
Absolutely.
UD: We'll spread the word. So what's your favorite lingerie to wear?
KK:
A sexy slip. Something tight, but see-through, it doesn't reveal too much but it's still revealing your curves. It looks like a little dress, and it fits you like a glove. You can come out of the shower, and you have a little robe, and then you slip it off, and you have this on, walking around, or maybe he gives you a massage in it.
UD: And for guys—boxers or briefs?
KK:
Hmm, I don't know...some guys look great in briefs, some guys look great in boxers. I think it depends on the package!