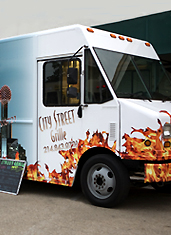 You're a busy person.
You close deals. You resolve disputes. You go to work, sit at the computer and stare at that one girl on Facebook.
So you need a restaurant that can adapt to your hectic, on-the-go lifestyle.
We think we've found it. And it's not a restaurant per se, so much as a vehicle...
Say hello to
City Street Grille
, a new burrito-slinging food truck that's now serving breakfast and will soon be jump-starting your lunches, dinners and late-night snacks too.
Obviously, this is a big deal—it's the city's first out-and-out gourmet burrito wagon, and only the city's second gourmet food truck. On top of that, it has one of the sweetest flame-adorned paint jobs this side of El Paso. So let's get you right into the facts.
To begin its mobile burrito domination, this rig will be parked outside Bob's Steak & Chop House on Lemmon Monday through Saturday from 6:30 to 9am (it launched this morning). Your tortilla-wrapped options are as follows:
The Momma Mia (equipped with scrambled eggs, Italian sausage, mozzarella, basil and marinara sauce)
The Italian Job (eggs, sundried tomatoes, caramelized onions, roasted garlic, pancetta and pecorino romano cheese)
What About Bob (eggs, beef, potatoes with peppercorn, onions, smoked gouda and a side of Richard Dreyfuss)
But in the next few weeks, you will see seven more burritos, a few brisket sliders and a Philly cheesesteak or two. And in the coming months, this'll be making daily and nightly stops around the city (
follow on Twitter
) and waiting for you outside the Loon at 1:47am.
Refrain from any
Teen Wolf
reenactments on the rooftop.