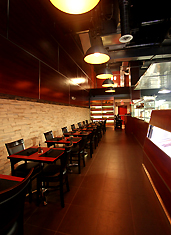 If there's one thing you could use more of in your life, it's... Heat tickets. But after that: kabobs.
We think we can help with the latter...
Presenting
Le Kabob
, your new grilled-meat-on-a-stick capital, soft-open now in Brickell.
Located next door to
Zen Sushi
, Le Kabob is the kind of place you'll go with a group of friends or a date when you're in the mood for sangria (red or white), perhaps a little baba ghanoush and, most important of all, a bunch of hot, sizzling kabobs. Your best bet will be the
Le Kabob Feast
, where you can choose five massive kabobs from a selection of 15 (don't miss the marinated lamb tenderloin).
Of course, kabobs aside for a second, this will also be your new home for hookah breaks. Head outside, grab a seat at one of four red couches and indulge in hookah flavors like apple, nectarine or kiwi.
And if you become a regular, you'll eventually be bestowed your own hookah, which will be stored in the back and have your name engraved into it.
We almost forgot to mention: the hookah will be designed by Ed Hardy.
Okay, we purposefully almost forgot to mention that.