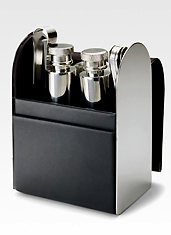 Somewhere, somehow, you're going to have to close the book on summer 2010 this weekend. Bedding down on the beaches of Chincoteague. Making for a remote cabin in the Blue Ridge. Or just making your annual toast to Abe on the Mall.
But wherever you're going, we're pretty sure your bar is going with you.
Say hello to the
Philippi Giorgio Portable Cocktail Bar
, a feat of engineering that has shrunk a bar down to its tiniest essentials, available now.
This is what you'll bring when you need the portability of a flask, only with a few more... possibilities.
When it appears that a toast is in order (halftime at the Redskins game, morning status meeting in the conference room), you'll unveil the unassuming stainless steel and leather case (it's not much bigger than your cell phone, but much smaller than Michael Douglas's cell phone in
Wall Street
) and begin withdrawing all manner of mixology tools.
For instance, two handy flasks, a stirrer and two retractable cups, so you'll be free to concoct that gin-and-grappa-fueled ode to your years' labors. There's a tiny pair of ice tongs. And yes, you'll find a wine key, in case a cork comes along that needs popping.
You always pack only the necessities.