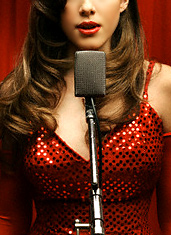 Some weeks don't reach their crescendo until Thursday or Friday.
This week, it's Tuesday.
And it comes in the form of
Crescendo Jazz and Blues Lounge
, your new haunt for live music and burgering, now soft-open on Biscayne Boulevard.
Think of this as your classic jazz bar scene—dark lighting, plumes of smoke, trumpets going crazy—only turn up the lights, lose the smoke, and you've got Crescendo.
You'll want to start at the bar, a five-seater where they've got a standard supply of wine, liquor and beer, plus a few interesting bottles, like a Landy cognac bottle covered in a slinky red dress and hat (ask it out, and you're cut off).
After a couple of drinks to get your jazz legs, you'll mosey through the main dining room and make your way back to a lights-strewn patio with about 10 tables. Here, you'll order up a
Classic Cheese Burger
or some
Jambalaya
and listen to the night's live band (they'll have up to three a night, with more Thursday through Saturday).
And because they're still looking for their definitive house band, don't be surprised if somebody from management asks you what you think of the music you just heard.
We hear this is how Simon Cowell got his start...