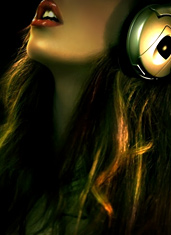 The next couple months promise to be big ones for news. The economy. Control of Congress up for grabs. Fluctuations in Albert Haynesworth's weight.
Which brings us to
BuzzVoice
, a clever little piece of technology that combs your favorite sites for news, then reads that news to you.
This is the equivalent of hiring Wolf Blitzer to whisper your favorite stories into your ear every day, but without all the irritation that his beard could cause. Just like with an RSS feed, you'll log on and choose which sources to monitor—from
Slate
to Hillary Clinton's blog to ESPN.com.
Then, once a day, the site will convert the top stories from those sites into a spoken-word playlist. And then when you find yourself untethered to your news—in the security line at Dulles, your 7am boot camp class, a state funeral—just pop in your headphones and they'll be read to you by an automated voice that recognizes close to a million words and counting.
The free version gives you a 10-minute daily podcast from 15 sources. But $4 a month gets you a 30-minute cast from 100 sources, delivered at the time of your choosing. You can also choose the voice that reads you the news, which we have on good authority may soon include a sexy Australian female voice.
Bad news sounds good when it comes from Elle MacPherson.