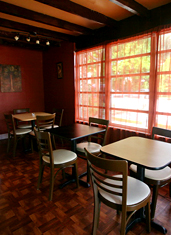 These days, it's a little tricky to talk about Haiti without sounding insensitive or sad or like you work for Sean Penn.
So we'll cut right to it (sans Wyclef joke): there's a spicy new Haitian restaurant in the city.
Introducing
Joumou Cafe
, an uber-authentic Haitian spot just north of the Design District, now open.
Next time you're winding down from an intense afternoon of gallery perusing, this is where you'll want to go (note: you can leave your new cowhide rug in the car).
You'll know you're in the right place when it feels like you've stepped into a ramshackle house in Port-au-Prince, decked with green walls, scuffed wooden floors and reggae music.
Take a seat in the main dining room next to the semi-open kitchen, where you'll have a view of the Haitian-American sisters who run the place chatting over massive pots of stew.
Order a couple bottles of Prestige (Haiti's best beer) and brace yourself for the namesake soup,
Joumou
(beef, noodles and carrots in a pumpkin broth), or a platter of
Cabrit
, tender hunks of goat served with sweet bell peppers in tomato sauce.
And if you've made it here before noon, there is no debate—you'll have the
Ragout
: herb-simmered cow's feet, served with boiled plantains or grits.
See you at 12:01.