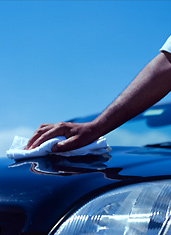 Life is full of inconveniences.
Traffic. Waiting in line for your latte. Only getting five courtside tickets for the Heat's opener.
Also: driving to and from the car-wash place.
Here to help with that last one:
SoBe Spotless Car Wash
, a just-launched, eco-friendly service that will come to you and wash your car without water, now available.
Think of it as a team of magical car-scrubbing elves who will diligently wash your wheels while you focus on more important activities (like catching up on episodes of
Dexter
).
So let's say your car is dirty. You'll call up SoBe or book a service online—options range from a $19 spotless car wash to an $80 full-body wash and wax treatment. You'll also tell them where you'll be (your home, your office, Prime 112). They'll send a team over in a Smart car and—using organic solutions and absolutely no water—give your car a shine that will last about three weeks (depending on how many off-road rallies you get into).
And because the whole process is waterless, you'll be saving around 100 gallons of water each time you use the service—which is a lot better for the environment.
It's also pretty good news for the chamois.