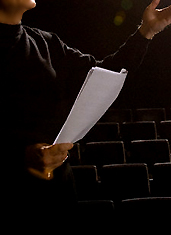 You've come a long way since Bong User No. 2 on the fourth season of
Entourage
.
You had a nice guest spot on
The Mentalist
, and you've got a callback on
Mad Men
(you know, for that scene where your character gets seduced by Betty Draper at a Monkees concert).
But you can't help but think your career could be taking off even more. The way Nic Cage's did after
Wicker
Man.
Maybe this will help: introducing
How's My Acting
, a new social networking site for actors—and maybe the last piece of the puzzle between you and a much-deserved Golden Globe.
Here's how it works: you'll start a free account and create a profile, quickly listing all of your credits and skills, from community theater to your three-episode arc on
Reba
. Then, the next time you want a fellow actor's opinion on a monologue or audition you're set to perform for the folks at DreamWorks, you'll post it and ask for feedback. (Expect notes ranging from "It seems like you're in your head" to "Definitely wear that T-shirt!")
And since this is sort of a Facebook for thespians, it's also a great way to meet comely artists who could use a warm body to run lines with.
With any luck, it's for an episode of
Hung
.