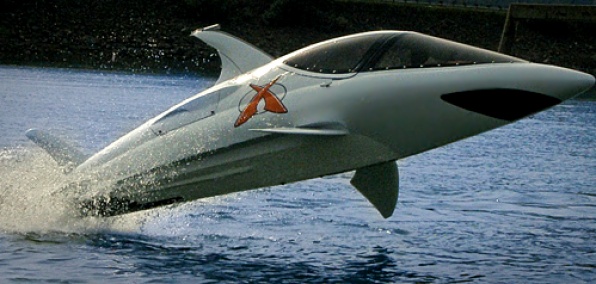 Ah, the perks of being a supervillain.

The secret volcano lair. The army of lethal henchmen. The fembots.

And, of course, the curiously sinister modes of transportation.

Introducing the Seabreacher X, the most important innovation in shark-shaped personal watercraft we've seen all year, custom ordering now.

No, we are not making this up: it's a personal submarine that looks like a shark. So the next time you find yourself in need of a quick escape—Interpol's on your tail, supervillain convention starting at 8, that sort of thing—you and your personal assistant/dangerous henchwoman will strap in, rev the 260-horsepower engine and take to the waters at up to 50 mph (on the surface). You can plunge down to about five feet deep at 25 mph too, in case you feel like shooting an impromptu Jacques Cousteau film. (That might be the best way to make this profitable—it starts at 65 grand.)

As you would expect from a luxury shark-sub, this thing's got all the trimmings: we're talking about an onboard camera, stereo system (for playing the Jaws theme) and even a built-in video game console. (You know, in case you get bored in your personal submarine.) And if you rev the engine at the right moment, you'll find yourself launched more than 12 feet into the air.

Do not eat within 30 minutes of driving.