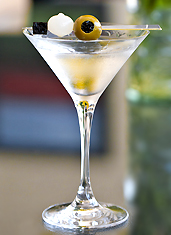 Listen, nobody should mess with the martini.
It's chilled. It's refined. And gin purists be damned, it's full of vodka.
Although... if you threw in a little caviar, that wouldn't be the worst thing in the world. Yes, today we are here to introduce
The Caviar Martini
, now available at Petrossian.
There are a couple likely scenarios for your pending consumption of this treat. The first one is, maybe you're looking to take your next two-martini lunch to new heights. (Fish eggs really show a client you care.) Or maybe your dinner date at
Cecconi's
merits an extension, so you casually suggest a nightcap with a twist.
Either way, you'll find your way to Petrossian, grab a quiet table on the sidewalk and order up a Caviar Martini. Soon, you'll be presented with a cold glass filled with dry vodka and vermouth, with a clear skewer piercing its way through a cube of pressed caviar, a cocktail onion and an olive stuffed with more caviar. The result is a hint of extra brine, and a little bit of "I am drinking a martini with caviar in it."
This comes to you courtesy of Petrossian's new full-on liquor license, which also brings an influx of vodka flutes,
Basil Gimlets
and
Russian Ciders
(that would be vodka and apple cider).
Next up: the Caviar Old Fashioned...