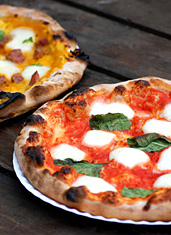 You've had many pizzas in your day.
Thin pizzas. Deep-dish pizzas.
Lamborghini pizzas
.
But sometimes life calls for a pie that's bigger than your stomach, a pie you could see Leonardo DiCaprio sitting down with to eat along with Al Gore and Ed Begley Jr. And three Israeli models.
That pie is from a place called
Naked Pizza
, and it's making its way to South Beach, soft-open now.
The first Florida outpost of a New Orleans-based company whose backers include Bob Kraft, owner of the New England Patriots (try not to hold that against the pizzaiolo), this is a futuristic-vibed place with a giant green wall and a menu displayed on flat-screens.
Your pizza will be the result of eco-friendly agriculture—hooray, earth—meaning your crust is a combo of nuts, whole grains and digestive-y probiotics, your tomato sauce is made fresh daily and free of sugars, preservatives and trans fats, and your meats are 100% sans hormones. Our advice: go with a skinny crust pie with sausage, black beans and sun-dried tomatoes. (And tell them to go heavy on the gluten.)
You'll also be happy to hear that this place is open until 1am on weekdays and 4am on the weekends, making it a good spot to refuel after a night at the Florida Room or Mansion down the street.
We hear probiotics make a great nightcap.