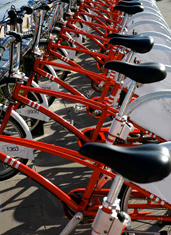 You're facing quite a dilemma: you've got a meeting with a GW physics professor so you can show him your desktop martini dryer (in beta).
Trouble is, your normally reliable driver called in sick. And the far less reliable Orange Line is once again... unreliable.
You need wheels. Two of them.
Enter
Capital Bikeshare
, a shiny new bike co-op program, launching in September and taking members now.
No, these aren't the same white numbers you've seen around town over the last couple years, the ones that look like they're missing a basket and tassels on the handlebars. These are aerodynamic red-and-black machines that look like they'd be equally at home cruising the sidewalks of Adams Morgan or powering up your favorite hill in Rock Creek Park.
After you sign up, you'll get a key card in the mail. And then, next time you need to make a sudden jaunt across town, you'll slide your card into their nearest bike rack (there are more than 100) and commandeer the steed of your choice before speeding into traffic. Yes, just like Kevin Bacon in
Quicksilver
.
Should your needs be more immediate, you could opt for a daily membership (for up to two bikes if you need your intern to tag along), and they'll give you a code to unlock your ride.
Just don't let them accuse you of doping.