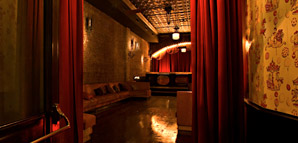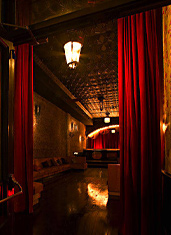 There are certain things you've come to expect from your bartender.
A little snappy patter, an ironic mustache worn without irony, the ability to ignite 100-proof liquor in midair.
But sometimes the night calls for a place where the bartenders are bona fide acrobats, singers, actors, jugglers and pyrotechnists, who can not only ignite liquor in midair, but spell out your date's first name with the flames.
That place is
Theater Bar
in Tribeca, open now for private events and soon for nights of casual liquid infernos.
You'll know you are in the right place when you enter what feels like a vintage upscale vaudeville circus, with red velvet curtains, exposed brick and a tin roof, all surrounding an elevated center bar/stage. Which is, of course, the point. The actors in this theater are the ones making your drinks.
It's best to approach with a wide-open mind, take a step back and let the spectacle come to you as the (possibly topless) bartender spins, dips, flips and sets aflame whatever concoction goes with the show (the cocktails are divided into "acts" and decided by the bartenders). Libations secured, you'll retreat to one of the long couches lining the walls and literally drink the show.
And when it's time to get some perspective on the evening, simply head through a side door, down into the kitchen and then up a set of stairs to the DJ booth and VIP balcony, where you can admire the flames from a higher, more elevated perspective.
Just remember, heat rises.