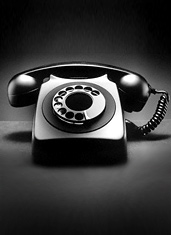 It's happened again. You've been misquoted. That
Politico
reporter just told the world that you said the SEC is a bastion of incompetent hacks, when you clearly said the
FEC
is a bastion of incompetent hacks.
If only you had proof.
Next time, you will. Say hello to
My Phone Tap
, an ingenious little online app that lets you record and save any call you make.
Basically, this is like bugging your own phone, for your own (totally legitimate) purposes. So the next time that pesky
Wall Street Journal
reporter calls you, politely ask if you can call him right back. Make him wait a few minutes, just because you can. Then dial My Phone Tap, which will prompt you for the number you want to call. From there on out, it will record all of your potentially scandalous musings for a mere 15 cents per minute.
Of course, this has other uses too. Like recording the rest of the Q3 conference call so you can make the 1:05pm first pitch at Nationals Park. Or when you think that general friend of yours is ready to reveal the secret to the whole military-industrial complex.
You wouldn't want to misquote him.