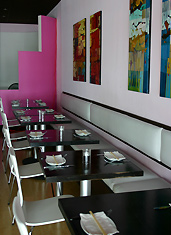 You go to Little Havana for certain things.
A strong café con leche. Plates piled high with rice and beans. Epic, moneymaking games of dominoes in the park.
And now... pad thai and yellowtail sashimi.
Say hello to
2B Asian Bistro
, a mecca of Asian delights now open on the Latin thoroughfare known as Calle Ocho.
If you've ever driven down the buzzing street that acts as the main artery to the thumping heart of
Miami's Cuban community and thought to yourself, "What I wouldn't do for a Thai beef salad and some shrimp dumplings," this spot is for you. Bring your date here before catching a raucous pre-midnight Spam Allstars set at Hoy Como Ayer, the Latin rock club down the street. Or stop in for lunch the next time you're on the strip shopping for stogies and guayaberas. (We know: that's almost every day of the week.)
The place hails from the owners of sushi spot Mr. Yum down the street, so you can expect that same crisp white minimalism, which makes it feel like
South Beach on the mainland. The menu's got the same Japanese-Thai bent too, with dishes like Pork Gyoza and ponzu sauce, Chicken Pad Thai and Spice Crispy Duck Buns.
Always say yes to a Japanese-Thai bent.