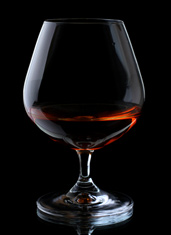 You have ideas, visions and dreams that deserve to see the light of day.
The sports bar where you get a box score of your exploits. The hybrid cereal bar/bowling alley ("Cereal Bowl," naturally). Botch, a radical hybrid of scotch and beer. (Your formula remains top secret.)  
But it's time to put all those projects on hold. Because you're about to get into the cognac business.  
Introducing
PM Spirits Own a Barrel Program
, a new way for you to create your own barrel of made-to-measure cognac, available now.  
Now, when it comes to embarking on an endeavor of this proportion, it's critical that you choose the right partner. In this case, you'll be teaming with Nicolas Palazzi, a Frenchman who was raised in the Bordeaux region of his native country and spends his days figuratively swimming in cognac, searching for the best bottles to import stateside. (We're also imagining he's a snooty cat burglar during his off hours.)  
And then, the magic happens. You'll email Nicolas, tell him what you're looking for—something complex, something smooth, something whose very scent reminds you of that summer you spent stomping grapes with a lovely young farmer's daughter named Amélie.
And he'll go to work, consulting with a team of mad chemists and pencil pushers, formulating the perfect combination of grapes and goodness to go into your barrel. Once the good stuff has properly aged (at least two years, by French law), you can then take the results and bottle, name and, well, sell it.  
Though we suppose you can write off anything you drink as a sunk cost.