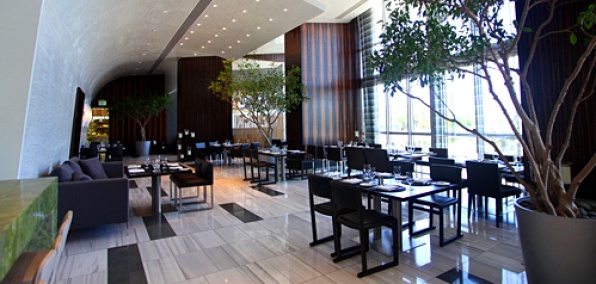 Big things are happening downtown.

Big buildings springing to life. Big players calling the AA Arena home. Big plates of beef with beer sorbet... We'll explain that last one.

Available now for your next mind-blowing pre-game rendezvous: Amuse, a glossy den of modern French cooking, now open at Tempo Miami hotel.

Despite its location across the street from the AA Arena, this is a relatively quiet, off-the-radar spot to take a date. Walking into the third-floor resto, the first thing you'll want to do is look out the great sprawl of glass framing views of the bay. Take a deep breath and bask. Then, claim a couple of leather chairs and get things socially lubed with a beer or a Cucumber Lemonade.

When you've got her laughing about your thoughts on Dan Le Batard's chest hair, step over to the adjacent dining room and ask for a table by the 30-foot-tall windows overlooking the arena. That's where you'll want to dive into the mostly Californian wine list and summon plates from the no-stranger-to-Michelin-stars Argentinean/French chef like Soft Shell Crab Tempura, sake ice cream and braised short ribs with scoops of mango beer sorbet.

Nothing pairs with alley-oops like mango beer sorbet.