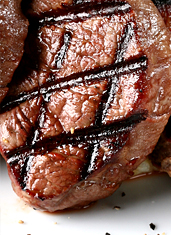 Today, as you're undoubtedly aware, is National Filet Mignon Day.
Sure, it doesn't have the clout of, say, Labor Day or Flag Day, but it gives us a perfectly legitimate reason to alert you to an important piece of news: we've discovered an enormous orgy of carnivorous delight in Oklahoma...
Your destination:
Cattle Rustlers Steakhouse
, an out-of-the-way den of home-style-cooking in Ardmore, Oklahoma, serving up what might just be the largest steak in the land.
Sure, you've heard rumors of some big steaks before. Whispers about a 76-ounce rib eye out on Long Island, tall tales about a 77-ounce sirloin in some remote corner of Missouri. We're here to tell you to think bigger. To think about an 80-ounce sirloin, served without a single side, by some renegade steakhouse off I-35 near the Texas-Oklahoma border. Which is exactly where a renegade steakhouse belongs.
Don't think about it too long, though—this is a time for action. But before you proceed, you should know there are some rules—basically, if you remember John Candy
downing a 96er in The Great Outdoors
, you get the idea. You don't have to call ahead, but this behemoth does take about 45 minutes to cook. You'll have 60 minutes to eat it. You will be served while seated on a stage, raised about 10 inches off the ground. You will not be allowed to stand. You must use utensils. Curious locals will come to watch you. And if you succeed, it's on the house. And if you don't, it's $55.
But you can't put a price on shame.