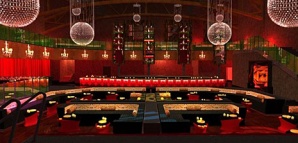 At heart you may be a man of the people
, but let's be honest—you'll take a stately home over a pedestrian hovel any day.
Call Jeeves. Fire up the pipe. Break out the monocle. It's time to drop in on
Mansion
, the Miami transplant and latest greatest "ultralounge" to grace the august environs of West 28th Street, opening tomorrow.
Like in every good mansion, there's a 20-foot fireplace and a fleet of butlers and French maids to attend to your intricate needs. Once inside, owners Mark Baker (Lotus, Double Seven) and Eric Milon (Mansion Miami) have eschewed the typical VIP lounge—you're already in a mansion—for more interesting alcoves like the mezzanine library, The Study and The Gallery. Not to mention the soon-to-be-infamous Cougar Room (opening in a couple months), an all-female chamber complete with hairdressers, a cocktail slave and high-end sex toys for sale.
The real show, however, goes down in the main room, dubbed The Grand Ballroom. To add a jolt of fun and spontaneity to the big bottle-box formula, random acts will be brought in from all corners of the globe for spontaneous send-ups. Stop by this weekend and you may see an impromptu performance by a Harlem gospel choir, an opera singer randomly belting out an aria, or a performance by saw-wielding, flame-spewing
Grindergirl
.
What would the neighbors say...