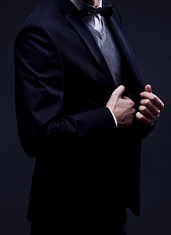 Shopping can wear you down.
The parking, the walking, the swiping... oh, the swiping.
It might be time for the clothes to come to you. Along with some bourbon, obviously...
Presenting
Suits on the Rocks
, your new way to procure a custom suit and also a stiff cocktail, now available from D. Jones Tailored Collection.
Basically, it's the suit-shopping experience of your dreams: a system that involves you not going anywhere, and drinking. To get it going, you'll want to meet Drew, a personal suit whisperer who spent a year in China perfecting his tailoring craft (sort of like Christian Bale in
Batman Begins
, only with more cuff-link meditation).
Drew will show up at your home or office, listen to what you're looking for in a suit and take all the necessary measurements (25, to be exact). Then, he'll get to the important part: finding out what you drink.
Six weeks later, Drew will arrive at your door with your new suit, handmade in China using the finest fabrics from Italy, along with a bottle of your preferred liquor. As you try on your new threads, Drew will pour you a double and make sure you're happy with everything, from the European fit to the cashmere-silkiness of the material.
Next up: your personal chef/cobbler...