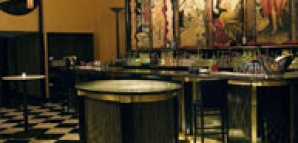 Yes, the city has a lot to offer. But after a while, a club is a club—which begs the question, whatever happened to all the good brothels? The proprietors of Salon want to bring back a taste of 1920s European bordello decadence with their new restaurant and lounge located discreetly between the Meatpacking District and the Hudson River.

Opening tonight, Salon is low-key (no signage yet, just a stone head over a nondescript door) and old-world swank—velvet banquettes, heavy curtains and inspiringly explicit nude paintings.

Salon is a sophisticated weapon for your dating arsenal. Your date will salivate over the Salon Kitty cocktail (vodka with strawberries, lychee and ginger beer) and perfectly flaky millefeuille, while antique dome lamps cast a flattering amber light that would make Janet Reno look delicious.

Keep your mack velvety smooth by heading upstairs to the lounge after dinner...show her the giant Otto Dix triptych and 24-karat gold dusted wallpaper, then head to the floor-to-ceiling champagne closet equipped with Veuve Grande Dame, Krug Grande Cuvee and Dom. Raise a toast to a plush evening—and let the artwork "inspire" you.