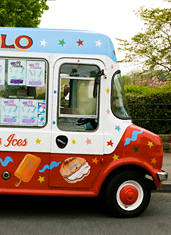 With the exception of your recently acquired pet tiger cub and the occasional cat burglar, you've never been one to chase things down.
And you're not about to start with lunch.
Even if lunch happens to be a moving target...
Enter
Roaming Hunger
, a website dedicated to taking the cat-and-mouse chase out of your daily food truck snipe hunt by letting you track them all in one spot, now gearing up for its Atlanta debut.
Basically, if all the food trucks in the city got together and created a joint Facebook account, this is pretty much what you would get. And how it works is simple: the site imports every truck's latest Twitter feed into one spot, complete with their current location, menus, photos and favorite color (you get the point).
We should also mention that the King of Pops (there's just no escaping this guy) is the only cart representing Team Atlanta as of now, but you can expect the rest of the fleet to follow suit in the very near future.
Besides, the King needs some company.