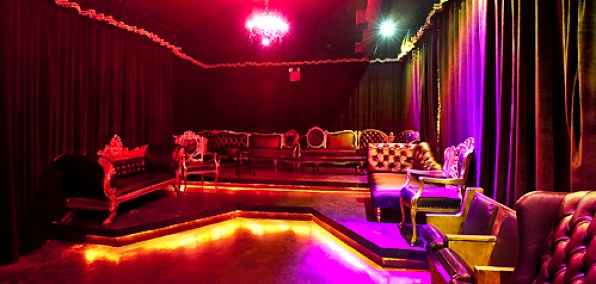 Once upon a time, this town was all about rock and roll.

The Ramones, Kiss, the New York Dolls... Barbra Streisand.

But let's put Babs aside for a moment and focus on the self-destruction and leather part...

Introducing White Noise, a new luxe rock-and-roll bar in the East Village (naturally), opening next week with the promise of hazy Jack Daniel's nights, impromptu live shows and a crowd that feels good being bad.

Climb the stairs to White Noise's hidden second-floor lair (the old Uncle Ming's space), and you'll be thrust into a world of vintage couches covered in black vinyl (leather is so pretentious), a bar layered in old tin roofing and windows boarded up and covered in thick black curtains. Even the chandeliers have been dipped in black tar.

It's the sort of dark cavern that will gracefully usher in your next night of moody carousing with hot muses and rigorous academic debates about bass players, which may just end with a session in the secret "Weirdo Room," where you will sit alone, under a strobe light, and contemplate the meaning of "Stairway."

And the next morning, when the hot blaze of the Sunday sun proves too much, you can head right back in for their hangover party (starting in a few weeks), complete with vintage rock operas playing on a projection screen, microwave White Castle burgers and slices of Artichoke pizza.

Just remember: what happens in the Weirdo Room stays in the Weirdo Room.