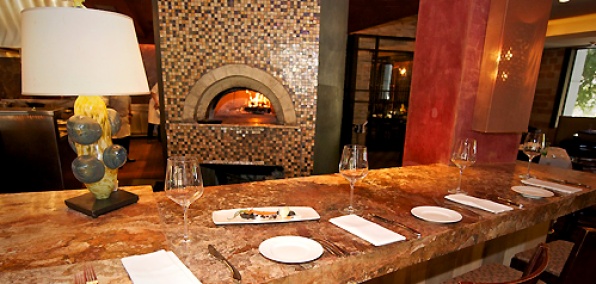 We all have those moments.

You're hungry, and it's a hunger that no salad/country-fried steak/gelatin dessert combo can rectify.

You're hungry for something new. Something crazy. Sixteen plates of it, actually. One of which is ham-flavored ice cream...

That's when you'll want to check into Fuego, the new four-chair restaurant within Stephan Pyles, now taking reservations for your next over-the-top feast.

Think of it as the city's greatest gastronomical experiment, where you get to consume all of the lab materials (and unlike sophomore chemistry, your lab partner will return your advances).

You'll start by entering Stephan Pyles and giving the hostess this message: "Fuego." She'll give you a look of respect/slight arousal and escort you to two chairs at a marble countertop facing a wood-burning oven.

Soon you'll meet your personal chef for the evening, Matt, who'll welcome you with Watermelon Mojitos and start to bring you plates of everything from roasted pig to Lobster Carpaccio with Foie Gras to a healthy supply of liquid nitrogen and dehydrated carrots.

As the plates keep coming—washed down with rounds of wine, cocktails and beer—Matt may even decide to bring you some Jamon Serrano Ice Cream (yes, ham-flavored ice cream).

So much better than ice cream-flavored ham.