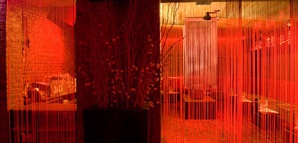 You're generally reluctant to brave the nighttime crowds in West Chelsea.
A little welcome change to the beverage service landscape might pique your curiosity enough to venture over there, though. Behold: Sake bottle service.
Suzie Wong
, the new/old kid in the recently revamped
Pre:Post space
, is the first nightclub/lounge to include the drink in bottle form, and you know you can't miss that kind of history-making excitement.
The space is über-Chinese kitsch—think Hong Kong-style underground den of iniquity, replete with red lanterns, stained red floors, red brocade banquettes, tasseled curtains and Chinese symbols everywhere. "Asian-themed entertainment" will be a part of the lounge scene—although we're not sure quite what that will entail, we have heard mention of undulating geishas on small elevated stages and a potential 8-foot-tall Asian drag queen (we'll take two bottles for that, please).
They also offer fittingly over-orientalized drink monikers like
Geisha
(muddled Asian pear, Kissui vodka, plum sake
)
and
Madame Butterfy (
Kishi plum sake, muddled apricot topped with a sparking sake float), for those who prefer their sake in cocktail form. Not to mention the dim sum menu, which takes the naming scheme to a new level with the
Love U Long Time
choose-your-own dim sum Pu Pu platter.
Obviously not something you want to be ordering from the 8-foot-tall Asian drag queen.