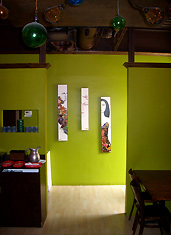 It's Wednesday afternoon, so chances are you're thinking about sandwiches.
Well, at least now you are.
So while we're on the same page, allow us to introduce you to
Super Pan
, a new Latino sandwich shop from
Top Chef
alum Hector Santiago, quietly tucked away beneath the dining room of Pura Vida, now open in Poncey-Highlands.
First off, this isn't the place for your midweek power lunch with the rest of the board. And it's definitely not where to take that brunette from the elevator for an impromptu lunchcapade. There's a time and a place for those dealings. But today, you will gather your thoughts, prepare for a solo mission and head inside the humble workshop of a true sandwich maestro.
Once you enter through the semi-hidden door just below North Highland, walk through the dimly lit dining room and bank left. You'll then ascend a flight of stairs, and it's there you'll find Chef Hector behind the counter, busily preparing Diablo shrimp, Berkshire pork belly and the occasional whole hog in a simple, unassuming little prep kitchen.
He will smile at you... Smile back. Then promptly order a
Medio Dia
with adobo-roasted Berkshire pork, Neiman Ranch ham, Swiss and habanero mustard on a pineapple roll. And if there's time, maybe even a
BBQ Rib Bolillo
with Mayan adobo beef rib, onions, cilantro and orange BBQ sauce on a bolillo roll.
Never question the preponderance of adobo.