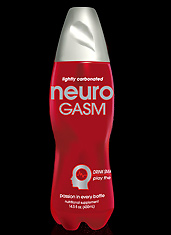 You've gone to great lengths to experience pleasure.
Tantric retreats run by Sting. Listening to "Sexual Healing" on repeat. A white-water rafting trip on a river of bourbon.
And now... well, to the corner store for a bottle of, yes, pleasure.
Introducing
NeuroGasm
, a new bottled beverage devoted to giving you... well, you can probably guess.
Yes, your fever dream of producing absolute sensual pleasure in a bottle has finally come true. Well, kind of—this potion is basically a combination of energy drink and aphrodisiac. It's filled with the kind of stuff—amino acids, green tea, Barry White's sweat (we're speculating)—that's famous for inducing swagger, all with the aim of easing blood flow to your "muscles, brain, lungs and other organs." (We don't think they mean the musical instrument.) The result is... well, it's not quite liquid Viagra, but it's not
eating ants
, either.
One thing that won't give you pleasure: the taste. Okay, we're kidding, it's not that bad—a standard energy drink mix of tea, fruity flavor and... vitamin-iness. What we're saying is, you might want to follow it up with a breath mint. Oh, and as for the perfect time to drink it...
Try right before you press play on the Barry White album.