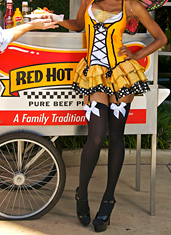 It's 2am in Uptown.
The Londoner has poured its last Guinness, the Loon has stiff-cocktailed its last patron, and the Ritz cougars have made their final pounce.
But the party doesn't have to end, and this Saturday it won't.
For somewhere in the shadows of Uptown, open till 2:30am, sits a humble hot dog cart operated by—we're just going to come out and say it—one of the hottest hot dog servers in town.
Meet
The Cart
, the only place in Uptown where you can have a hot dog handed to you by a high-heeled woman at 2:29am, taking orders this Saturday night.
To reach this sexy oasis of all things frankfurter, just follow your heart into the sea of late-night debauchery and spontaneous karaoke cabbing that is the front entrance of Hotel ZaZa. That's where, hidden between the valet stand and the Dragonfly entrance, you'll meet Kamille, a pretty young thing who—when she's not hot dog vending in the wee hours of the morning—is a part-time model/actress.
And just like you, Kamille has a flair for the theatrical—which means depending on her creative instinct (and her dry-cleaning schedule), you may be served by a sultry bumblebee, a Little Bo Peep, a fantasy butterfly, a sassy nurse or a French maid (note: French accent is extra).
Amid this amazing customer service, just try to remember that you came here for the ultimate nightcap: a jumbo dog loaded with mustard, ketchup, relish, jalapeños and tomatoes. It costs $5, and Kamille only takes cash.
Which brings us to late-night rule #97:
Always tip your bumblebee hot dog server.