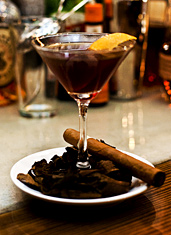 It's been in the lab for months now.
Late-night experiments were performed on deserted bar tops. Cloak-and-dagger conclaves were held in dark kitchens.
And yes, perfectly good cigars were dropped into perfectly good bottles of bourbon...
Introducing
The
New York Robusto
, an unapologetic pioneer of a cocktail made with the city's first and only cigar-infused bourbon, available starting this Saturday at the Iberian Pig.
To get a feel for what you're in for here, just imagine walking into a humidor. The subtle aromas of cedar and tobacco hit your nose. Then comes the overwhelming urge to blow huge smoke rings while saying things like "Yes... yes, I will have more smoked trout mousse." It's pretty much like that, only in cocktail form.
And by cocktail form, we mean a very... special Manhattan. The bourbon itself is first patiently infused with whole cigars (yes, actual cigars) as well as vanilla beans, cloves and dry cherries. Then the whole thing is gently stirred with sweet vermouth, and garnished with a fine drizzle of wild lavender honey and a flamed orange twist. What you end up with is a surprisingly smooth and easy-to-drink cocktail.
And just like every good Manhattan, this one comes with a warning label. Due to the high nicotine content (trust us, you'll feel it), you'll be required to sign a disclaimer before you're allowed to take it on.
Stick that in your martini glass and smoke it.