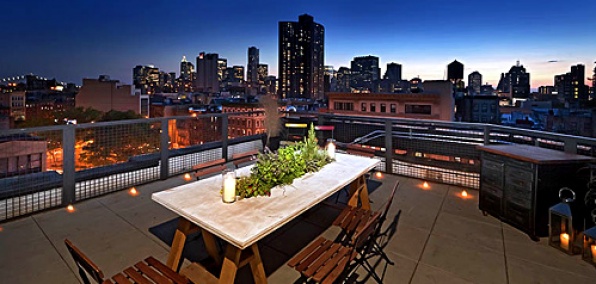 Unmarked doors are dangerous propositions, best often avoided.

But from time to time, an unremarkable-looking door opens onto a world of untold riches, barely legal soirees and the kind of company that just doesn't congregate in known locations.

And sometimes, they just lead you... up.

Introducing the Silkstone Rooftop, a secret rooftop garden open now for the stream of open-air dates and anything-goes private parties you usually refer to as August.

To access the roof, you'll have to look for a single light burning above a black metal door. Identify yourself, and a kindly butler will show you into a dark hallway, through a bustling kitchen and into an elevator bound for the sky. And then...

Arriving on the seventh floor is like stepping into a postcard of unobstructed views and flickering candlelight, where you'll host the kind of date that will likely crack your all-time top five (right after the great Niagara Falls sashimi incident of '08), or else entertain friends around a communal table with an herb garden growing in the center. (Should your pasta require more basil, just grab some.)

And if you're less interested in dining at altitude and more interested in alfresco fetes, the roof can also accommodate movie screenings, Arabian rug-festooned hookah parties, co-ed naked Twister tournaments, karaoke marathons and the kind of photo shoots that will get your account blacklisted by Facebook.

At the very least, Ms. Klum will have to de-tag herself.