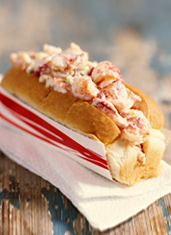 Ordering in can be a dangerous game. Our advice: keep it simple.
With perfectly toasted bread. Some lobster. And mayo. The ghosts of fishermen past. The... whatever else is in a lobster roll.
But unless you live in Maine—or near one of the Northeast's finer seafood shacks—a lobster roll is, like the mermaid, a rarely seen creature from the sea.
And if you happen to live in Maine, keep reading anyway.
Say hello to
Hancock Gourmet Lobster
, now mailing perfectly delicious lobster rolls straight to your door, online now.
Short of having a genuine Maine lobsterman—presumably wearing one of those yellow raincoat and floppy hat ensembles—on standby, this is how you'll get your lobster roll fix from here on out.
You'll order off the website—your options include everything from lobster inside ciabatta bread to lobster risotto on the half-shell, but we recommend sticking with the basic rolls. They'll arrive with dry ice, the lobster salad in a little bucket alongside a half-dozen split-top rolls. (The perfect toasting is your responsibility.)
And the final coup de grâce: six whoopie pies, a giant cookie cake that's also made fresh by the lobsterfolk in Maine.
Note: you're supposed to eat that last.