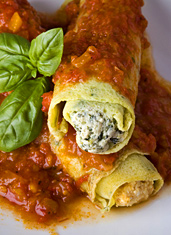 We know what you were thinking when you woke up this morning: you've got to get some Heat tickets.
Also: it's so hard to find a good, underground vegetarian dinner party in this city.
Well, you can stop worrying about that second one. Because we've found a place. And it's veg-tacular.
It's called
Conscious Bite Out
, a monthly dinner party complete with some of the tastiest raw/organic/vegetarian/vegan food lovers in town (also: vegetarian food), and it's now taking reservations for its event next month.
So here's the deal: you'll arrive at a small gallery called The Sacred Space. As you introduce yourself to the city's most prominent and sexy raw-food fanatics, you'll be handed a glass of organic red wine from Italy. You should also feel free to bring your own organic wine.
Then, you'll take a seat at a gigantic communal table, and you'll get down to the vegetable-related business. Details are still being hammered out, but expect a five-course feast with things like Italian salad, fresh-made pastas, burrata and maybe even a piece of fish.
In addition to the benefits of throwing your taste buds a changeup and potentially meeting a few vivacious soy-milk drinkers, you'll also be pleased to hear that this type of meal promotes a stronger heart, stronger bones, better sleep patterns, healthier skin and healthier hair.
It seems to work for Natalie Portman...