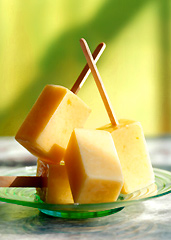 There are those scientific problems that, when solved, will signal humanity's next great leap forward. Cold fusion. String theory. A formula to explain Joe Biden's hair.
And freezing booze.
Well, you'll be on the phone to the folks at the Smithsonian just as soon as you're done marveling over the
Cocktail Popsicles
, available starting this weekend at Potenza.
This is science in the service of a higher calling (namely, your mid-heat-wave happy hour). They've taken Mediterranean-inspired cocktails, and after a bit of Edison-style tinkering, figured out how to freeze them into your favorite cylindrical summer food on a stick.
So when the heat really becomes Death Valley-esque, you'll want to make your way to Potenza's outdoor café, and order up one of these three full-sized 'sicles—
The Orvieto
(strawberry, balsamic syrup, Italian vodka), a Bellini version with a bit of champagne tingle on the tongue, or, if you're feeling especially rustic, the
Potenza Cocktail
(housemade limoncello, grappa and lemon bitters). And stay tuned: we have it on good authority that an Italian sangria pop is in the works.
Just don't linger. Science hasn't stopped them from melting.