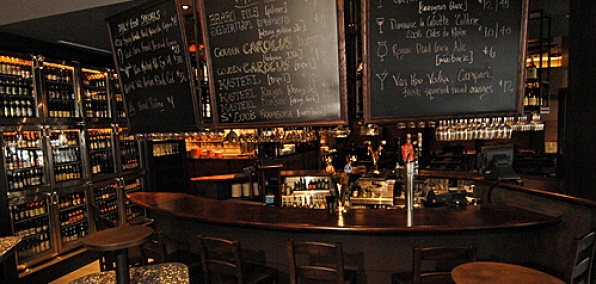 To get exactly what you want, you've sometimes gone to great lengths. To the West Wing to impress a date. To LA to buy that pocket square worn by Cary Grant. To the West Virginia hills for some authentic moonshine.

And now, to Bethesda for beer-fueled late-night debauchery. Also: oysters.

Introducing The Mussel Bar, opening tomorrow night to give you a good reason to cross state lines.

You know Robert Wiedmaier from his elevated Belgian cooking at Marcel's and Brasserie Beck. But here, he's done away with the white tablecloths and tie-clad servers in favor of a Euro-style gastropub inspired by his favorite dive bar in Brussels.

Your best move: arrive later in the night, when the flat-screens show classic rock concerts (squeeze your lemon every time Robert Plant sings about... well, squeezing lemons). Breeze past the outdoor café and take up a position where the action will be, at one of the standing high-top tables, made from concrete and mussel shells. From there, take your pick from 40 Belgian bottles in the wall-size cooler (another nine are on tap).

Then you'll want to summon the oyster cart, at which a dedicated oysterman (call him your oyster butler) will shuck and ice the daily catch of East and West Coast mollusks right in front of you. As for the rest of the menu: you'll find that on chalkboards over the bar, where you can order Mussels with Grilled Pineapple and Sweet Chilis and 15-Hour Roasted Pork Belly.

Which gives us a great idea for a pork belly cart...